When you've had the privilege to design as many bathrooms as I have over the last few years, you get pretty familiar with all of the plumbing offerings on the market! And even though tile, cabinetry, lighting, and hardware make a huge impact on the overall design, there's something about a faucet that really sets the tone for a bathroom – like the jewelry to a perfect outfit…  As evidence, check out the Kohler commercial below! And in deference to the power of the faucet, check out my list of the most striking widespread faucets currently on the market.  And don't worry…I'll move onto single lever options soon!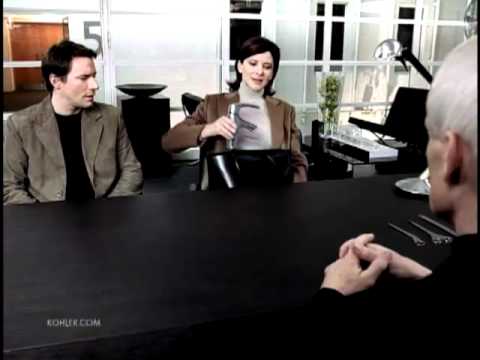 1) Whitehaus Metrohaus Widespread Lavatory Faucet 
This sleek faucet is simple and striking all at once.  A great option for a more contemporary bathroom, the cross handle design paired with a unadorned gooseneck spout is sure to grab attention!
2) Waterworks RW Atlas Low Profile Three Hole Mounted Lavatory Faucet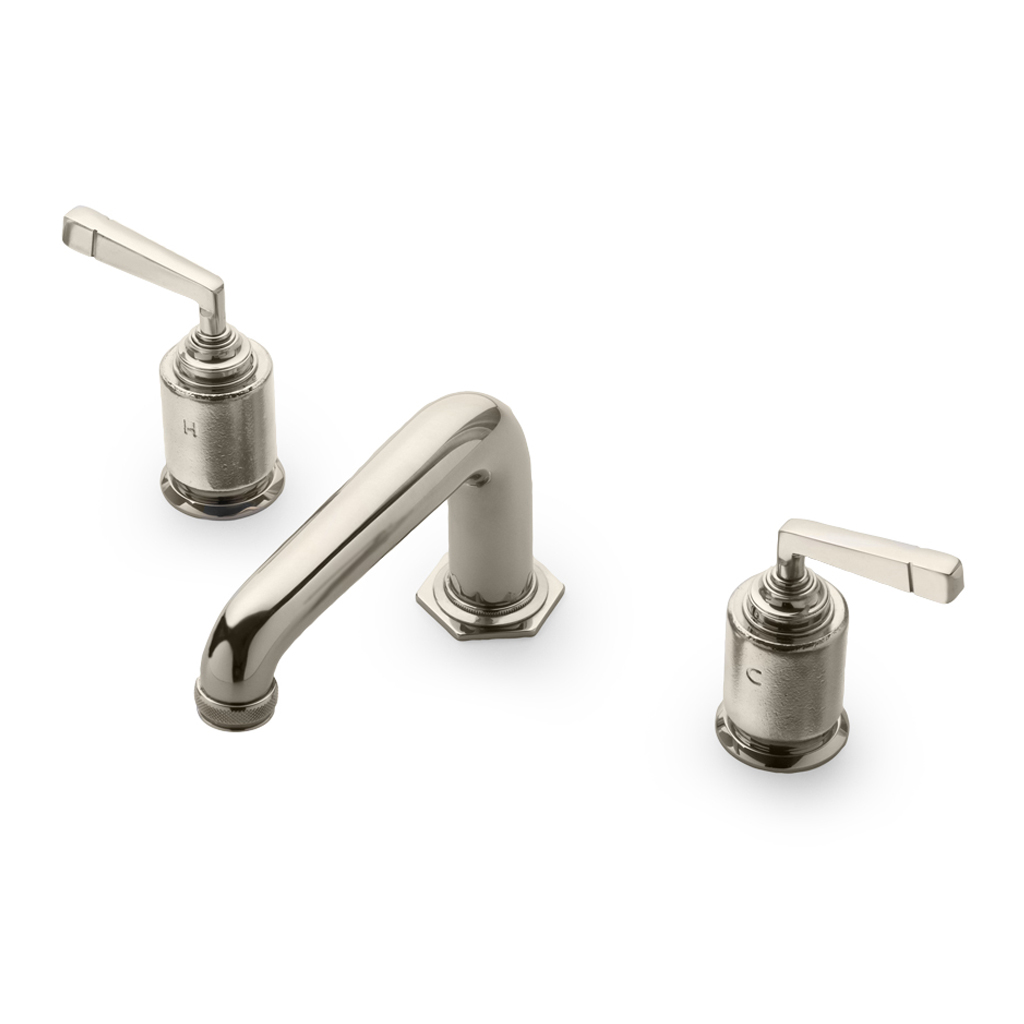 Waterworks is the epitome of luxe in the world of kitchens and bathrooms and the Atlas Three Hole Mounted Lavatory Faucet is no exception! In an ode to the industrial era, this new faucet (part of a larger collection) is a great option for an unexpected touch in any bathroom that seeks an edgy feel.  And with 13 different finishes, you're sure to find the perfect match no matter your look!
3) Danze Parma Trim Line Widespread Lavatory Faucet
Danze is a great resource for stylish, quality, transitional plumbing and Parma is a great collection that won't break the bank! This is one of my go-to faucets and it's the perfect option for a bathroom with sleek, clean lines and a fashion-forward aesthetic. 
4) WS Bath Lever Widespread Faucet with Push Handle

WS Bath is a high-end line but worth the price tag! This contemporary option makes the list thanks to its forward-think lever design and styling.  While not for everyone, this leading-edge faucet is sure to please a more forward-thinking client who wants to experiment with a new style.
5) Signature Hardware 8″ Bridge Bathroom Faucet with Cross Handles
Despite it's elaborate and eye-catching design, this gorgeous bridge style faucet comes in under $200.  The bridge style is a great match for a more traditional bathroom and adds a striking visual element with any sort of paneled door vanity.  With white porcelain faucet caps and sculptural spout, it speaks to the past while making a architectural statement in any new bathroom.
6) Hansgrohe Axor Montreux Widespread Faucet with Lever Handles 
This transitional faucet is a happy medium between contemporary and traditional styles and is the perfect option for the bathroom that wants to be edgy while not too modern.  The high arched spout makes a strong statement on an vanity, while the white faucet caps add a retro vibe.  The best part? This stylish faucet also has a cross handle option and also comes in a bridge model!
7) Kohler Pinstripe 
Despite its status as one of the world's largest plumbing manufacturers, Kohler manages to keep an artisinal feel to all of its faucets.  And the Pinstripe faucet is no exception – with intricate detailing on the spouts that evokes a retro vibe and a low profile spout that's perfect for a vintage look.
8) Rohl Vincent Widespread Faucet with Metal Lever Handles
Rohl is synonomous with luxury when it comes to plumbing and the company is always on the cutting edge of design.  Named after a mountain town in the Piedmont region of Italy, the Vincent widespread faucet is particularly striking in its elegant simplicity.  With straight lines and the slightest hint of femininity, its eye-catching while not overwhelming surrounding selections.  This one may end up in my own bathroom!
9) Newport Brass Cube Widespread Faucet

For modern bathrooms, the clean lines and structured design of the Cube faucet by Newport Brass are a can't miss option! With a square base and thick levers, this faucet stands out from other competing options.  The best part about Newport Brass? The company offers 27 finishes, so the possibilities are endless!
10) Perrin and Rowe Georgian Era Column Spout Widespread Faucet
Perrin and Rowe is one of the best possible brands for the discerning client and the Georgian Era collection is particularly grandiose.  Featuring a highly decorative swivel spout and decorative lever handles, this is a to-die-for option for any traditional, upscale bathroom project – and is sure to be envy of guests!